Pregnancy, weight loss, and the natural effects of aging can cause a woman's breasts to look deflated. Sagging and loose breast tissue can also create an unbalanced appearance, leaving many women with low self-esteem. Breast lift surgery, also known as mastopexy, is a procedure that reshapes and raises the breasts to a higher position on the chest to provide women with a more aesthetically appealing bust.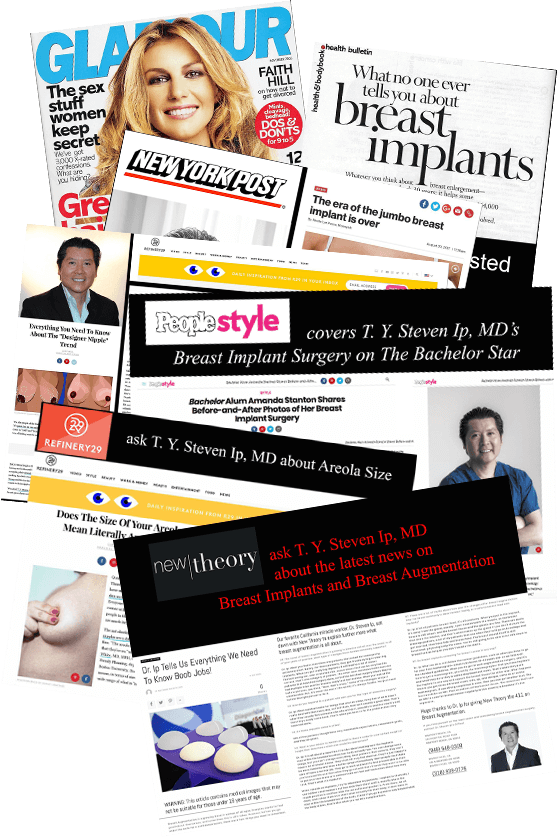 Achieved With Breast Lift Surgery
Your Breast Lift Procedure
Incision Options
Anchor/Inverted-T Lift:
An incision is made along the edge of the areola that continues down the breast and along the breast crease.
Ideal for women with moderate to severe breast sagging who require the removal of a significant amount of extra skin.
Vertical Lift :
The incision is placed around the edge of the areola and continues vertically down to the lower breast crease.
Best performed on women with mild to moderate sagging.
Donut Lift:
A circular incision is made along the outer edge of the areola.
Addresses mild sagging in the breasts.
Crescent Lift:
An incision is placed along the upper edge of the areola.
Ideal for women with very mild breast sagging.
Nipple-Areola Repositioning
For women with severe cases of sagging, Dr. Ip can resize and reshape the nipple-areola complex by removing excess skin and tissue and repositioning the nipples in a more youthful location.
Combined Procedures
Breast lift surgery can be combined with breast augmentation for patients who would like to enhance the size and shape of their breasts. In some instances, tummy tuck surgery can be performed alongside breast lift surgery if a patient chooses to undergo a Mommy Makeover, which combines several surgical procedures to enhance a woman's overall figure.
Recovery
Following your breast lift surgery, you will be asked to wear a compression garment to help minimize swelling and to protect your new contours. Swelling and bruising will occur but should resolve after a few days. Make sure to avoid physical activities that involve heavy lifting for at least six weeks. Most patients are able to return to work two weeks after the procedure.
Results
You will see immediate results following your breast lift surgery, as your breasts will sit at a higher position on your chest. You should expect your results to be long lasting and long as you maintain a stable weight.
Scars
The amount of scarring will depend on the technique used during your breast lift surgery. Most scars can be hidden underneath clothing and will likely fade over time.
Cost
The cost of your breast lift procedure will vary depending on factors such as anesthesia fees, surgical fees, and techniques used. Dr. Ip will provide you with a cost sheet during your consultation.
What Dr. Ip's Patients are Saying
I've been using this doctor since I was 19 and would never let anyone else do my work. He's done work on my mom and countless other friends of mine. He's conservative and has always exceeded my expectations. I've had at least five surgeries done by Dr. Ip and every time I've been extremely happy. He's also super friendly and makes you feel at ease especially if you're nervous. You have to be careful who you choose to get plastic work done by and I wouldn't go anywhere else because I trust Dr. Ip!!!!
Devin G. | Yorba Linda, CA
View More Testimonials
Breast Lift Faq
Am I a good candidate for breast lift surgery?

Patients interested in undergoing breast lift surgery must be in good overall health and stop smoking for at least six weeks before and after their procedure. Dr. Ip will examine your health and the condition of your breasts to determine which technique will best meet your aesthetic and personal needs.

What type of anesthesia will be used during my procedure?

Breast lift surgery is performed on an outpatient basis under general anesthesia, and it can take up to two hours to perform depending on the degree of correction needed.

Are there any risks or side effects involved with breast lift surgery?

As with most surgical procedures, breast lift surgery is known to involve some potential risks and side effects. These include:

Anesthesia risks
Bleeding
Infection
Breast asymmetry
Changes in skin sensation
Fluid accumulation
Poor wound healing